TabSprint
DURHAM, NC
Chief Marketing Officer / Design Director
February 2013 - February 2015
As a co-founder with John Chipouras and Grant Warman, Joshua Berman developed every component of the TabSprint brand, from visual aesthetic to product design, advertising to iconography.
In late 2013 TabSprint ran a single-market experiment for ABInBev, testing the efficacy of the app in regards to customer influence. With straightforward information architecture principles (or invisible "nudges") we were able to influence customers to the tune of a 14% sales uplift across the market over the course of the experiment. The sales data were vetted by a third party.
OUR ROLE
Strategy

Product Design

Sales/Marketing Alignment

Branding

Content

Design

UX
DELIVERABLES
Content Writing & Editing

Brand Guidelines

Logo

Signage

Merchandise

Wireframes

Mobile App Screens

Mobile App Animations

Website

Pitch Decks
ABINBev Pilot Program
Chapel Hill, North Carolina
November 2013 - December 2013
We ran a 2 month pilot program promoting ABInBev products over 20 different venues in Chapel Hill, North Carolina. Most of the venues were very close to UNC, but November through December is traditionally a low traffic season for college bars (comparatively speaking) because of weather, finals, and students returning home for the holidays.
Although we were only in 20 venues, (and with only 3,000 users), we increased sales 14% sales across the entire market, including venues in which TabSprint was not active. APT, a third party, vetted all our data.
One of the critical elements of this program's success was the menu prioritization. We even created special categories of drinks just to feature ABInBev products. We call these "nudges," and they work.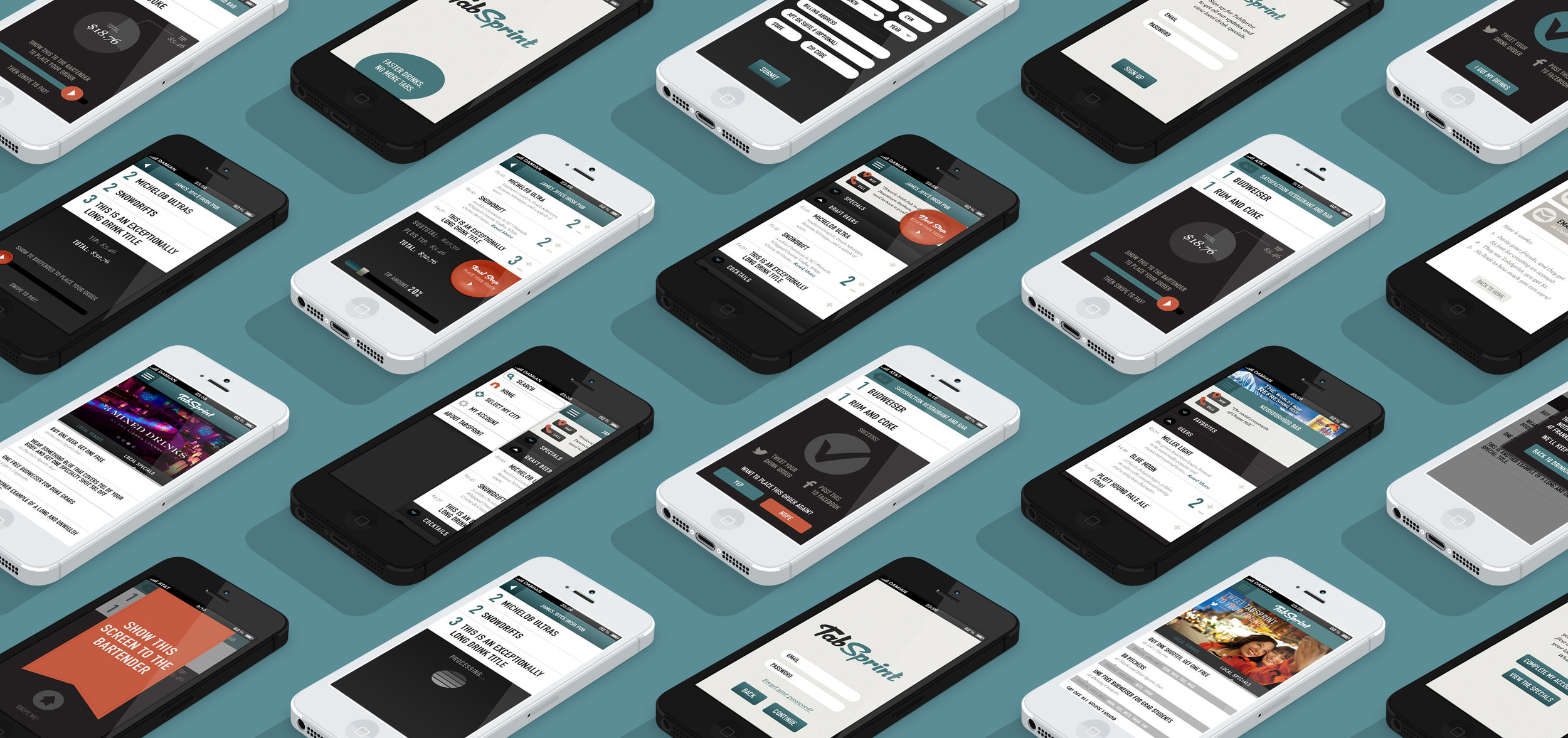 On-Premise LED Test
We ran a brief pilot experiment in which key venues placed an LED "Pay Here With TabSprint" arrow sign, pointing to a section of the bar. Because TabSprint operates with mobile payment, independently of any Point-of-Sale system, this could be any section of the bar.
We hypothesized the LED would address three issues simultaneously:
Make a dedicated space at the bar which would allow one bartender to service mostly TabSprint customers (creating the rapid turnover effect desired)

Inform current TabSprint users that this bar was a TabSprint payment bar

Introduce new users to the app, drawing attention through the bold advertisement and "highway effect" created by the quick service.
Although we only ran it for a brief time, the one venue that placed the sign in a prominent, consistent location was our highest performing venue for repeat customers, and it wasn't even close.